Pet Stain & Odor Removal Service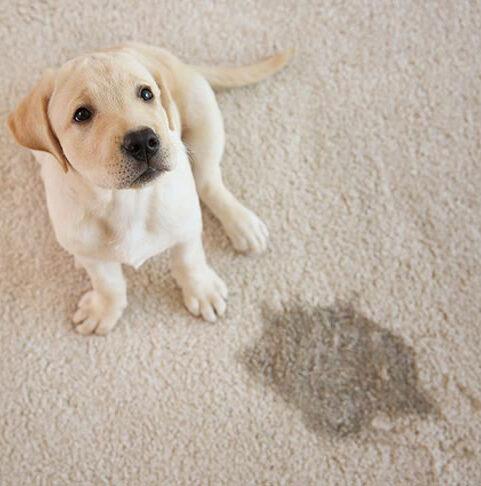 While some minor forms of odor removal can be done on your own, However professionals will be needed for more stubborn, unpleasant smells.
Cooking odors, smoking and water damage, pet's urine, absorbent surfaces such as carpets, area rugs and upholstered furniture can and will trap dirt and unpleasant odors over time.
The moment particular smell penetrates fibers, it is almost impossible to remove the odor without professional help. Don't try to remove odors with regular household cleaning products. Moreover, excess use of regular household cleaning products can cause damage to fabrics of any kind and worse yet: be dangerous to your health.
Disturbing odors are caused by bacteria in the material that caused a stain. There are other factors that affect the concentration of a smell such as diet and health issues when it comes to body perspiration and pet urine.
A detailed deep steam cleaning done by a professional cleaning service can help reduce or eliminate awful odors.
When stains occur, you should act fast. First gently wipe the spill using a moist rag, do not rub into the fabric. However, if smell doesn't disappear, right decision is to hire professionals to help you out.
Ecocleaning-nyc provides cleaning services such as stain and odor removal using only eco-friendly products that are harmless for you and your pet as we know you love them.
Our experienced technicians use their knowledge to solve any odor problem successfully. We use deep steam cleaning technique to remove soil and bacteria. In harsh cases, we treat stain areas with eco-friendly products that dissolve odors. We leave your home and take odor with us.
Other Cleaning Services We Provide